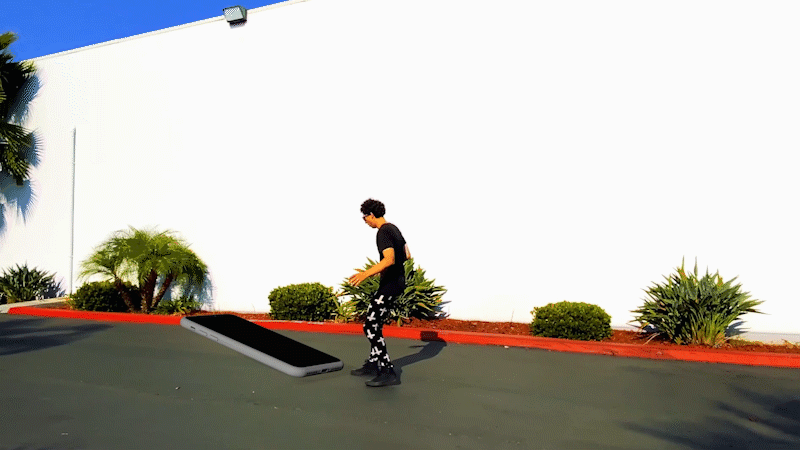 Why won't your phone just leave you alone? Don't siri, google, alexa, and facebook know you have better things to do? Or do they know you more than you know yourself? Too Much Input is a futuristic, 3D-animated depiction of the digital addictions that underlie our era of oversaturated screen-time binges and mental health catastrophes. It pairs post-rational pandemic 2020 with satiric sonic chaos.
Watch The Full Music Video---->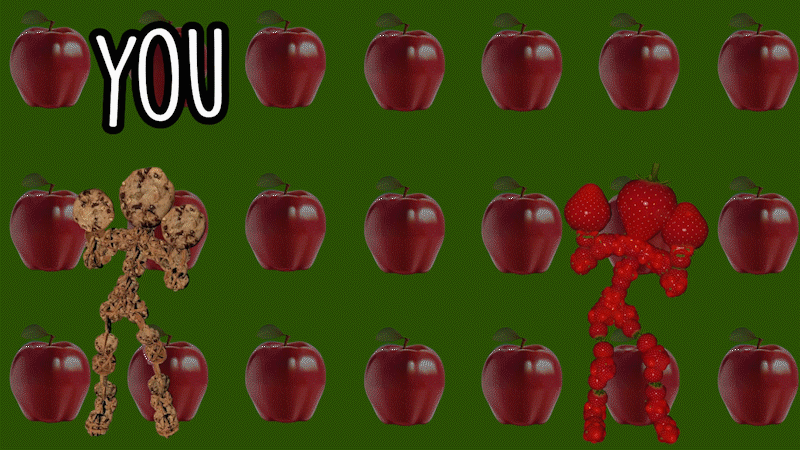 Unregulated snacking may be the most powerful of any adult privilege. But with great power comes great volatility. No magic diet stops your primal famished defiance when it's late and you're fiending for some treats. The bliss point between savory and sweet (calculated and scientifically tested to maximize your gustatory pleasure) awaits you. What will you choose? Better yet, what can you refuse?
Watch The Full Music Video---->
A catchy kitchen jingle is imperative to the adulting lineup for those of us who aren't privileged enough to own a dishwasher and/or hire a cleaner. Your heap of dirty dishes will only steal time for bigger wishes, so why not equip yourself to streamline the labor? Nothing compares to the initial squeeze and scrub of a spanking new sponge. As you revel in squeaky, spotless success, don't forget to wring out all the moisture - that way, dank mold won't mature.
I have good news and bad news. Unfortunately, you're going to need to put pants on in order to leave your house :( The good news is you're hanging out with that awesome new person you met last week! Shall we call them...your goal friend? They're so cool you must know more about them. If you truly listen, and know their thick / thin, you may just find them opening up to your terrible dad jokes. As the days together fly by, your goal friend may blossom into unconditional care and mutual inspiration. Always remember, a friend who feeds is a friend you need.
Who knew that going in circles would give a great excuse for being productive? A sure sign of a mature adulter is a keen 6th sense for their remaining pairs of clean underwear. Some can even hone this skill sharp enough to monitor the supply of their young. Our tighty-whitey supply is the true impetus behind changing bed sheets and refreshing that dank towel left the bathroom. So toss in detergent, hold start to lock in, and quick spin those splendid odors out of your soiled linen.
Finicking through your finances may be the most adult task of all. Once every year, feds reappear to suck away wads of your mattress stash in a flash. April is here, and you must adhere. It's time to pay up Uncle Sam's cup. Because America is truly king with its high scores in fatness and shootings. Prepare to be reamed for your dues to this great nation.
Watch The Full Music Video---->
You've got to get out of this place. Take a step back and see the world face to face. Travel all day and night on a whim just to see the sights. Follow your instincts, and most importantly, do NOT overthink. Turn off your GPS and take a guess. Roll towards what feels right, and you'll find that taking risks brings new life. Adulting is one big-ass road trip. You will veer and drift, but just keep that steering wheel gripped at 10 and 2.
HA! You thought you actually had time to relax? Only the inexperienced would believe they can evade the relentless onslaught of menial and morbid misfortunes behind adulting's doors. Rear ended, check engine lights, flat tires, cancelled flights, family lost, hearts broken, backstabbed by your best friend, arctic gusts, flash flooding, forest fires, hurricanes...etc. When it rains, it pours, and money, time, and power won't make you immune. Your adulting storm will inevitably arrive - do you have what it takes to survive?
Adulting brings many challenges, anxieties, and stressors. We wonder, worry, wander, ponder, vacillate and aggravate. Many believe the more we procrastinate, the more we exacerbate. But science has shown us there is a sweet spot between generating ideas and letting them ripen over time. Stuck is merely a matter of perspective, and it's important to acknowledge moments of hesitation as much needed reflection. Adversity will always remain, but patience can bring the assurance and confidence needed to thrive in your adulting journey.
As adults we all love to schlep ourselves inside lonely grey boxes and open the pointless mass-emails flooding our inboxes. Your daily adulting work life is made possible by the pertinent peptide hormone cortisol. Peaking to get you out of bed, cortisol drops as the day goes by until you're dead. It's found in your spit, and spikes whenever deadlines creep up making you submit to overtime and lack of leadership. Let's face it - large meetings waste everyone's time, and there's no benefit to losing all autonomy over your calendar crunching someone else's numbers. But don't worry, there's always your lunch break. You get to eat the same bland tupperware meal that you prepped for the whole week!
What would being an adult be without some adult content? This singular downtempo tune goes out to the lovemakers; the ones who return home after a terrible, seemingly never-ending work day with enough will to give it all to that special someone. Sprinkle the rose petals and cuddle up in your sheets for a naughty spin on this neuropeptide. Oxytocin is released during love and in labor. These sensual sins felt skin to skin are truly what adulting is measured in.
When days go past, but nothing lasts, are you lost or are you human needing something new to contrast? As the alarm clock pierces your slumber, you're finally struck by your need for change. You can't live your life in 100%'s, and it's time you started choosing freedom over security. Stop fooling yourself, and start making choices that no one else is. If you're in deep, or can't fall asleep, obliterate your comfort zone. Take a chance and leap.
Adulting can be distilled to our repetitive struggles against life's sticky systems, but know that you're in it for the long haul. With hopes unfulfilled, frustrations will start to build, and your inner perfectionist will kickstart your competitive compulsion to go back and get what you deserve. Set backs, slow downs, stand stills and shortfalls will hit you like a brick wall - but stand tall. As long as you search incessantly for the answers to the right questions, you will obtain this key component of the adulting experience: redemption.
thank yourself for taking a moment to laugh at the cyclical nature of our shared experience. well then, i guess we better get back to it
if you found value in this album and enjoyed yourself, please consider supporting my patreon or signing up to receive next year's email for another multimedia adventure. Until then...
​
peace, love, and music
plexusplay